Decanter October 2018
Highly recommended Siete Fincas Secreto Cabernet Franc, read more about this wine here
………………………………………………………………………………………………………………………………..
Now the summer is over and it is time to go inside!
We will be presenting our wines at: 
6th of October at Helsingør Wine Festival
19th & 20th of  October at Kalmar Wine and champagne festival 
17th of November at d'Angleterre, Copenhagen. For this wine fair, we sell tickets,  250 DKK per person. The price at the door is 350 DKK.
We hope to see you!
……………………………………………………………………………………….
We will be at Garagevin, Avedør, August, 25th, 2018.
Come and see us there and try our wines!
We sell tickets, email us or call 92264721
……………………………………………………………………………………………………………………………..
Malbec World Day,
17 of April
Get your Malbec in time
Our Mairena Malbec is a wonderful wine from the Familia Blanco in Mendoza, Argentina
Normal price 110 DKK
Buy 6 bottles for 550 DKK
email us to get the discount
……………………………………………………………………………………………………………………………………………………………………………….
Arenal Carmenere Reserve is our wine of the month!
During February you can buy
A box with 6 bottles of Arenal Carmenere Reserve 800 DKK (normal price per bottle 155 DKK)
To read more about the wine follow this link
Can only be bought by calling 92264721 or sending an email to fivecloverwines@gmail.com
****************************************************************
Wines from Siete Fincas, Argentina
will arrive Friday 22/12!
You can already reserve your bottles by sending us an email to:  Fivecloverwines@gmail.com or call 004592264721
******************************************************************
Copenhagen Wine Fair at Brøndsalen, Fredriksbergs Have,
 22nd of April 2018,
13:00-15:30 or 16:30-19:00
Normal ticket price 300 DKK (at the door 350 DKK)
Our customer price: 275 DKK
Send us an email to: fivecloverwines@gmail.com
or give us a call: 004592264721
to reserve your tickets.
New wines from Peralillo Wines will arrive end of November,
H* del Sur Gran Reserva , H*del Sur Reserva 60/40, H *del Sur Reserva 85/15
and
Arenal Carmenere Reserva, Arenal Selection Chardonnay, Arenal Selection Pinot Noir,
You will soon be able to read more about them all on our web
Christmas Wine fair at hotel d'Angleterre,
Saturday, November, 18th, at 14-20
Buy your ticket by sending an e-mail to fivecloverwines@gmail.com
or call 004592264721
Our Price 270 DKK
Normal Price :300 DKK
choose between
First part: 14:00-16:30
Or
Second part: 17:30- 20:00
Visit us at this wine fair and find your Christmas and New Years Eve dinner wines.
We are waiting for new wines from  Peralillo Wines and Siete Fincas!
Carefully selected wines,
New Wine Fair- Garagevin at Dansk Vincenter 
Five Clover Wines will attend a wine fair in Hvidovre, September 2nd.
There will be several wine importers presenting their wines.
We still have some tickets left for the price of 150 DKK, normal price is 200 DKK and you pay 250 DKK at the door. Call us or send us an email to fivecloverwines@gmail.com to buy your tickets.
Wine Fair
We will attend a Wine Fair in Helsingør, Saturday, 5th of August between 13 and 17.
Buy your tickets from us in advance and the price is 125 DKK (200 DKK at the door). To reserve your tickets send us an e-mail to: fivecloverwines@gmail.com
Welcome!
New Wines from Austria
We are proud to present that new wines from Austria will arrive next week. They will be presented at the Wine Fair in Helsingør next Saturday. The selection of grapes are mainly white wine grapes, Gruner Vertliner, Sauvignon Blanc and others.
Wine Fair
We will attend a Wine Fair in Helsingør, Saturday, 10th of June, between 12:00-17:00.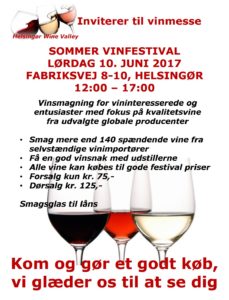 Buy your tickets from us in advance and the price is 75 DKK (125 DKK at the door).  To reserve your tickets send us an e-mail to: fivecloverwines@gmail.com