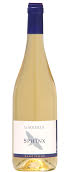 Sphinx (AOP Languedoc) is a fresh nice white wine made of a blend of the grapes Bourboulenc (80%) and Roussanne (20%). Bourboulenc is an interesting grape which gives this wine a elegant and fruity taste. The grapes used for this wine are grown 140 meters above sea level and all organic grown. This wine is an organic wine from start to finish.
No oak, fresh, fruity and with fruit flavour like pear. It is a god wine for aperitif or with seafood and fish.
There are only 6000 bottles of this beautiful wine. There are no more bottles in stock.
Price per bottle 95 DKK